Little by Little is a chapbook of poetry written by children at the Margaret Okari School in Kisii, Kenya along with children in the United States and United Kingdom, the first in a new series of books the Margaret Okari Children's Foundation plans to publish annually about different themes relative to their lives.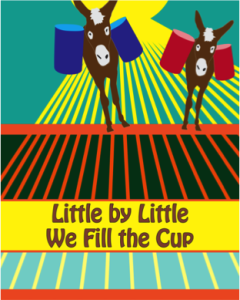 Our first theme is water, and this book celebrates the groundbreaking of a new clean-water well at the school, generously funded by the Rotary Club of Andover, MA, along with partnering Rotary Clubs. When the well is finished, the children and staff will save hours each day spent walking to collect and bring back water.
The hard-working donkeys at Okari have become emblematic of our efforts to keep the children in school. Fundraising has enabled us to hire them. With them tasked to get the water, it relieves the time, physical burden, and safety issues associated with children having to fetch the water. With every trip the donkeys take to the water, the children—generally females in the African culture; though the children at Okari share this task—also get to remain in the classroom. While we are happy that this has alleviated some of the challenges around water—it has not resolved them all. Children still fetch water—and that water is not necessarily clean. We are thrilled to announce that construction of a new, clean-water well is slated to begin in the summer of 2015.
100% of the profits from sale of this book fund education for the children at the school, including a STEAM (Science, Technology, Engineering, Arts, and Mathematics) initiative launching in 2015.
Visit our book site: www.littlebylittlebook.com
To purchase the book, please visit (information about Amazon.com).